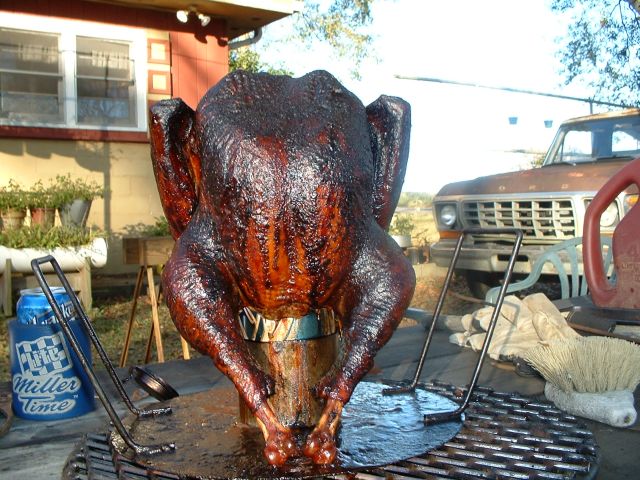 Wine
Chateau Grossombre 2003
From
Bordeaux AC, France
Price
$17.95 (LCBO, Ontario)
Alcohol Content
12.5%
A Lurton wine with a mix of 67% Cab and 33% Merlot that spent one year in oak. Smells and tastes like a Cab-driven Bordeaux, at least; tannins still a bit green on the finish, so this could possibly wait for a year. Middle drops out, which indicates too many grapes to the acre---or too few to the bottle. Those who stuck around for a second glass noticed that the nose had picked up some meaty complexity and the palate had stabilized a bit. Pleasant, but no big deal---another case where price rules: If it costs you no more than a bottle of Ol' Yeller Tail, it's a steal. (Unfortunatly, Ol Yeller Tail doesn't reach this price even in the Yukon.)
Wine
Chateau Cabaron 2003
From
Bordeaux AC, France
Price
$22.95 (LCBO, Ontario)
Alcohol Content
14.0%
Wine is a mix of 90% Merlot and 10% Cab, which with the high alcohol content (high for Bordeaux AC, that is) makes a couple of tasters nervous: Is this going to be new-world goofy? A nose in the glass allays some fears by finding a rich, classically Bordeaux scent---bold but not dopey. Major tannin on the palate, but not offensive; fruit is there to smooth it out. Lovely finish induces even the cranky taster to declare it "a winner". The rest of the conversation dances fitfully and inconclusively around: Is the alcohol too hot; too present? Is this wine too Parkerish? Could it have used a bit more Cabernet Backbone? But mostly, how many more bottles of this should we buy?
Wine
Flagstone "Dragon Tree" 2005
From
South Africa
Price
$15.95 (LCBO, Ontario)
Alcohol Content
14.5%
A mighty, wild mix of Cab, Merlot, Shiraz, Petit Verdot and Pinotage gives a big, assertive Bordeaux-on-steroids nose. A pretty complicated fruit-bomb, actually, with good big tannins, and every note appearing in the right order---which usually indicates that the winemakers have done their vineyard work honestly and have resisted the urge to meddle in the process too obviously. Too huge for food, really; and as it goes along, the high alcohol fries your taste buds, making it taste less multi-dimensional as it was right after the bottle was opened. But that's the only problem, really---spread this out among more than ten guests and everybody will feel as if they've died and gone to Cape Town.
Wine
Torrederos Crianza
From
Ribera del Duero, Spain
Price
$18.95 (LCBO, Ontario)
Alcohol Content
14.0%
Subtle Tempranillo nose leads to a big (too big?) but sweet, oaky attack. Still, no complaints from the peanut gallery about what is a nice, single-minded statement. Tannins are present and still pretty green, which means that this should also improve---and it's pretty nice already. It also worked with food much better than the wine above.
Wine
Cline Zinfandel 2005
From
California
Price
$19.99 (BC Liquor Stores)
Alcohol Content
14.0%
Biggish, but anonymous nose. On the palate… what the…?
Candy floss!
Strange faces made around the table: This is actively unpleasant---is there any such thing as over-blandness? The distilled essence of every Scooby-Do cartoon ever made squeezed into every gulp, perhaps? A desperate attempt to be analytical produces the following notes: Fruity, callow, youthful nose; stemmy undertaste on the opening with a kool-aid-fruity attack. Smoky aftertaste, but no tannin---so age is going to offer no improvement. Cline's Zins didn't always taste like this, so it looks like they've unfortunately made a conscious decision to go with the nutrasweet effect at this grade, and transferred any profundity they might achieve to their Ancient Vines collection. In short, they've just priced themselves out of the field.
Wine
Chateau la Freynelle 2005
From
Bordeaux AC, France
Price
$14.49 (Kensington Wines, Calgary)
Alcohol Content
12.5%
60% Cabernet-40% Merlot blend from Entre-Deux-Mers in Bordeaux is from a single vinyard but doesn't seem to give much of a sense of any borders more specific than those around Bordeaux itself. Yet people finish what's in their glasses before moving on: Balance, depth and plain ol' high standards make up for what this lacks of that
terrior
thing. Or in the words of the lead taster, "all faceless Bordeaux's should taste this good." Better value than the Grossombre above; its makers also have the guts to use a screw cap. But we'll see what they do outside a fabulous year like 2005.